It's November and that means it's NANOWRIMO. To celebrate my first Nanowrimo novel, Zero Repeat Forever being on the way to publication by Simon & Schuster I'm featuring many published or soon-to-be-published Nanowrimo novels over the month of November.
Today's featured novel is Olivia Bean, Trivia Queen which Donna Gephart wrote during NaNo in 2009.
Here's what she said about her experience:
When I was behind on coming up with a third book for my publisher, I decided to give NaNoWriMo a try.  Two days before it started, I scribbled ideas, hoping to come up with something I could turn into a novel.  Just before abandoning hope of that happening, I scribbled the words:  "Olivia Bean, Trivia Queen."  Well, that might be something, I thought.  The next day, I realized Olivia was a trivia whiz who wanted to get on Kids' Week on Jeopardy!  She also wanted to reunite with her father, who'd left the family to live on another coast with another woman.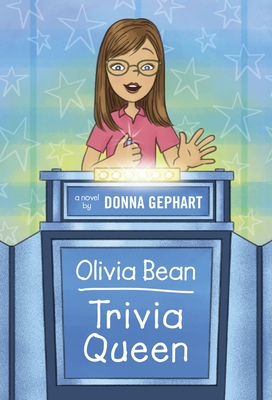 I blogged daily about the experience, because there's nothing like the fear of public humiliation to keep word counts up.
Even though I worked hard each day, I sometimes had a page count of zero.  Some days were thinking days.  Other days were revising days (even though the NaNo folks suggest not revising as you go along).  I'm a rebel like that.
No one was more surprised than I that I was able to complete Olivia Bean, Trivia Queen in only 29 days.  It took a few months to revise.  And it was published by Delacorte Press/Random House Children's Books with a lovely blurb from Jeopardy! champ, Ken Jennings.
I highly recommend participating in NaNoWriMo and have done it along with my students when I taught creative writing to high school students.  It's a lot of fun, and the community and cameraderie are a welcome change from writing in isolation.
I wrote a blog post for Writers Helping Writers about what I learned from participating in NaNo.
My newest book is Lily and Dunkin, a story about a big-hearted, nature-loving transgender girl who tries to save a beloved tree and a boy who deals with his bipolar disorder and the move to a new town — Lily's town — and in order to fit in, Dunkin joins the basketball team, even though those are the very boys who are tormenting Lily.  Lily and Dunkin took a long time to research and nearly a year to write and revise and was totally worth it because of the messages and letters I've been receiving about how the book is providing mirrors for some and windows for others to create understanding and empathy.
Donna Gephart is a professional nerd. Her love for libraries and reading have led her to a career as a children's book author for Penguin Random House.  Her books now reside on the shelves of the library she frequented when she was a child.Donna's books have won a number of awards, received starred reviews and landed on many state reading lists. 
She's a popular speaker at schools, book festivals, libraries and conferences, including the S.C.B.W.I. National Conference, the Erma Bombeck Humor Writers' Workshop, F.A.M.E., the Conference on Children's Literature and others.
Originally from Philadelphia, Donna now lives in South Florida with her family, including two sweet shelter dogs, Benji and Teddy.
Donna blogged extensively about her Nano experience and also shared what she learned here. More than that, Donna continues to publish great books for kids. Check out her latest novel Lily & Dunkin here.