The Crosswood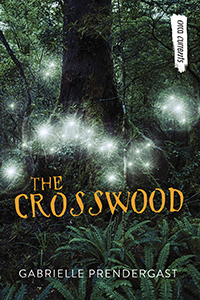 Fourteen-year-old Blue Jasper takes his younger siblings, twins Indigo and Violet, out for a hike to give their mother a break. One moment the twins are scampering in the trees right ahead of him, and the next moment they are gone. As Blue frantically searches for them, a strange woman appears in the forest claiming to be the Faerie Queen Olea of Nearwood and the twins' real mother. Now because of a magical pact, Blue's mother's life will be in danger if he can't find the twins before the next sunset. Blue must find his way into the magical forest known as the Crosswood and through the dangerous Faerie lands beyond it. Will he be able to find the twins in time? And will they be able to find their way out again?
Reviews and Honors
School Library Journal: "Readers will appreciate Prendergast's clever ideas…A solid plot…a satisfying, immersive world for striving readers not yet ready for longer texts"
CM: Canadian Review of Materials: "Excellent…A fast-moving urban fantasy with a likeable hero trying to do his best in an untenable situation…The Crosswood is a great high interest addition to the fantasy genre. Highly Recommended."
Bookworm for Kids : "Every character is intriguing and has a hint of exciting magic. It's impossible to say what will come next, making the twists and turns come with delicious surprise."
Nominated for The Chocolate Lily Award 2022
Junior Library Guild Gold Standard Selection
Commended BC Books for BC Schools
The Wherewood
Fourteen-year-old Blue (a human) should be upset that his new friends Salix (a Nixie) and Finola (a Faerie) have tricked him into going on another adventure into Faerieland. But he's actually quite excited. Especially since their quest to find the way back to Salix's homeland takes them through the Wherewood, a magical region where lost things go. They encounter confused pets, misplaced homework assignments and mountains of odd socks. But when a misstep leads Blue into the forsaken Witherwood, he comes face to face with an old enemy. And Olea, the cursed former queen of Nearwood, will not let Blue go so easily this time.
Reviews
CM: Canadian Review of Materials: "A lot of fun in these pages."
CCBC Best Books for Kids and Teens Spring 2022
The Overwood
Blue Jasper has learned to respect the magic of the Faerie Woods.
For now he"s quite content to stay in "the Overwood"-the name the Faeries have for the human world. The only problem is, his foster sister has accidentally expelled the evil Faerie queen Olea from Faerieland. Now Olea is hiding out somewhere in the Overwood, where Faerie magic can be very unpredictable. Then Blue's mother disappears. Blue and his Faerie friends race through the snowy winter streets of the city as they follow clues and face challenges both magical and human, desperately trying to find Blue"s mom and her wicked captor. But they have no idea what Queen Olea has in store for them.